Adventure Travel
3 Marvels of British and Irish Train Travel
By
|
There are numerous reasons to take a train in the UK, from the romanticism of transporting you to a bygone age to the sheer delight and excitement of getting to a new station.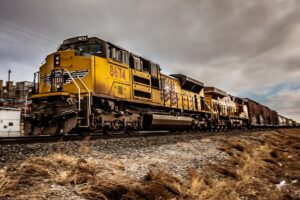 Derry to Coleraine
The Northern Ireland route connecting Derry and Coleraine has been called one of the most picturesque train rides in the world. Even though the trip is only 45 minutes long, you can anticipate stunning north coast views and plenty of chances to learn about its fascinating history and fauna.
The route swings northward as it leaves the medieval walled city of Derry, providing stunning views of the Foyle Estuary and its fauna, which includes waders and seabirds.
The line allows passengers to take in the scenery without being hindered because the lines run straight beside the beaches. When you stop in Castlerock, tour the old railroad station that goes back to 1875 and have a lovely picnic.
The tour extends from Castlerock to Coleraine, where you can learn about the town's history and see the ruins of Ireland's first known colony.
Snowdon Mountain Railway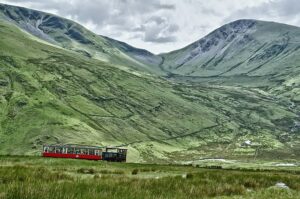 Source: Wikipedia
Take the Snowdon Mountain Railway from the hamlet of Llanberis to the top of Mount Snowdon and be in awe of the breathtaking scenery of Snowdonia National Park.
Take a ride to the top in The Snowdon Lily, one of the Railway's oldest carriages, to follow in your ancestors' footsteps, or board one of the more modern carriages for a more up-to-date experience. See if you can identify Ireland, England, Scotland, and the Isle of Man as your carriage soars higher and higher.
Be on the lookout for the renowned Snowdon lily, peregrine falcons, uplands ravens, and wild goats. Eat an Oggie, a Welsh-style pasty stuffed with local lamb and leeks, at the summit's Summit Visitor Center. Discover the tale and mystery surrounding Snowdon while you're there. It's said that this mountain is where the gigantic ogre Rhita was buried after King Arthur defeated her.
London to Fort William
Source: Wikipedia
Take the Caledonian Sleeper from London Euston to Fort William in the remote Scottish highlands for an unforgettable adventure. The Deerstalker train route has been hailed as one of the top six train trips in the world.
As the train departs London in the dark and arrives in Scotland around dawn, passengers see a spectacular sunrise over the untamed Scottish Highlands.
Loch Lomond, Loch Treig, Rannoch Moor, and the Glenfinnan Viaduct are sights not to be missed. Enjoy haggis neeps 'n tatties and 14 different kinds of Scottish whiskey, and immerse yourself in all things Scottish while you're on board.
The train arrives at Fort William, the UK's outdoor capital, after a 13-hour journey. Fort William is located beneath the majestic majesty of Ben Nevis.