History
The Great Oak of Portmore
By
|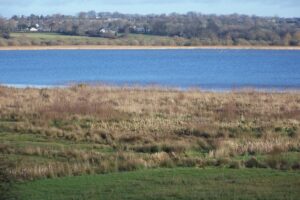 Source: Wikipedia
Someone composed "The Highlander's Farewell to Bonny Portmore" when the giant oak of Portmore was toppled in 1760; in 1796, Edward Bunting acquired it from Daniel Black, an elderly harpist from Glenoak (Antrim, Northern Ireland), and published it in "Ancient Music of Ireland" In 1840.
On the site of an earlier fortress, Lord Conway built a large castle in Portmore, County Antrim, close to Portmore Lough, in 1664. There was space within for two horse troops. After Conway passed away in 1683, the location was abandoned, and the structures were taken down about 1760. It's said that the ancient oak formerly stood on Portmore Castle's grounds.
The ancient oak, known as "the ornament tree," was pushed over by a strong wind when standing on the grounds of Portmore's Castle on the banks of Lugh Bege. The tree was already well-known for its stance. Oak was cut, and the timber was sold. We may infer from the measurements that the trunk's width was 13 meters.
In the southwest of Antrim County, Northern Ireland, there is a nearly circular lake called Loch un Phoirt Mhóir (lake with a notable landing spot), which is now a nature reserve for the preservation of birds.
The castle was constructed between Lough Bege and Lough Neagh, and the Ballinderry-based O'Neill family once owned the land. The count lost the estate after draining Lake Ber to develop the area (the drainage system known as "Tunny cut" still remains), despite the estate being rich in century-old trees and lovely woodlands. Due to the ambitious project's failure, English nobility came into possession of the area.
In some stories, the Count's lineage vanished, and the new owners abandoned the estate since they had no plans to settle in Ireland. Almost all the trees were chopped down and sold as lumber for shipbuilding, and the castle fell into ruin.
The words convey a narrative that inspires fury and desire for the (impossible) restitution of what was lost, despite the music's calming, even lullaby-like quality. "All the lords in Old England would not purchase Portmore," is a harsh remark that implies more than just destruction when a tree is lost.
The harmonious beauty of the music, the grief, and desire in the lyrics, as well as more than a trace of underlying wrath, as well as that unique something that many of us feel for trees, especially the ancient and magnificent ones, are what combine to make the song work so well.