History
3 Weather Events that Shaped the Course of Irish History
By
|
2018 Summer Heatwaves and Drought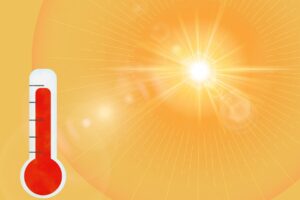 From the end of May 2018 through the majority of June and July, the weather was dry and stable. Slow-moving anticyclones began to form either over Scandinavia, slightly to the north, or directly over Ireland. Even though there were spells of low pressure, particularly in the middle of June, the weather was mostly dry and sunny with little to no rainfall. The West and Northwest of the nation had increased turbulence in August, although high pressure to the southeast continued to keep the South and East of Ireland drier and warmer than usual.
Many areas of Ireland experienced a heatwave and a drought as a result of this protracted dry stretch of weather. Between the 24th of June and the 4th of July, 15 synoptic stations observed heatwave conditions for five or more days. For 11 days in a row, Oak Park, County Carlow, experienced a heat wave. The maximum temperature ever recorded at an Irish synoptic station during this time was 32.0°C at Shannon Airport in County Clare.
2018 Storm Emma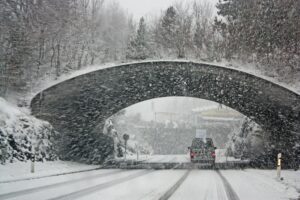 Ireland had not had snowfall and temperatures this severe since December 2010. However, the synoptic configuration compares more favorably to the cold snap of January 1982, with the East and South being particularly affected by heavy snowfall totals and blizzard conditions. The Sudden Stratospheric Warming (SSW) occurrences in 1982 and 2018 were followed by cold periods some weeks later.
The country's east was initially hit by the snow showers that began on the 27th, but over the next few days, with the help of strong easterly winds, the snow showers moved farther interior, causing accumulations of snow in several places. Due to the persistently below-freezing temperatures, the snow remained on the ground. As Storm Emma moved in from the south, it further compressed the isobars, boosting the force of the easterly wind while also directing frontal bands of snow northward, creating blizzard conditions and substantial drifting.
For many days, the nation essentially came to a stop. The road network was severely disrupted, and many routes were inaccessible. Most public transportation was suspended since it was urged that people stay inside. Record-breaking temperatures were also experienced, with numerous areas reporting record-low daily maximum temperatures for March on March 1.
2017 Storm Ophelia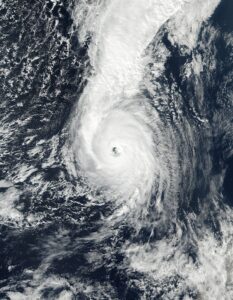 Source: Wikipedia
Storm Ophelia caused significant damage to coastal regions, particularly in the south. Off the southern coast, hurricane-force winds were experienced; Roche's Point recorded strong storm-force winds with gusts as high as 156 km/h. At Fastnet Rock, a gust of 191 km/h was measured (the height of the mast is 70m).
More inland, gale to strong gale-force winds with periodic severe gusts caused widespread disruption, mainly because hundreds of trees and electrical poles fell (the majority of the trees were in full leaf at the time). A high-level warning was necessary due to the intensified effects of the winds, even though several of the inland stations reported wind speeds that exceeded the thresholds established in the criteria for issuing a "Red Warning."